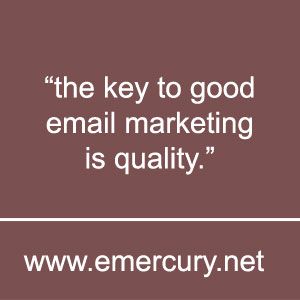 Email marketing is not dead. For a lot of merchants, email marketing is one of the best ways to lure a targeted customer to their website, and to actually get people interested in what they are selling. A lot of thought goes into effective email marketing attempts, though. Just because you're bombarding your potential customers with newsletters doesn't mean you will automatically get sales. There's a science to it, too.
Identify your target
1. Make a segmented list: your current pool of customers have similarities in their backgrounds that could directly affect the way you address them in your email blasts. Customize your email blasts to suit those who are mothers who are looking for relaxed but classy outfits, for example, and create a different newsletter for young bachelors. In other words, get to know your customers more so you can make a proper connection. Pulling out certain segments from your list for a particular email blast also decreases the chances of your newsletter going into the SPAM folder.
Click here and sign up for a free account where you can send a total of 12,000 emails to no more than 2,000 recipients monthly.
2. Give your consumers a choice: The key to good email marketing is quality. Instead of purchasing email lists and having your email blast identified as SPAM, set up a subscribe tab or form in your website instead. This will allow consumers who are already interested in hearing about you and your new products or services to key in their email addresses. This way, you know your email will always be opened. Hopefully, once they open your email, they will be interested in your offer too. A small list of interested people will do your business more good than, say, a list of 100 email addresses who could consider you a nuisance.
3. Learn to negotiate that unsubscribe option: Your email marketing strategy will fail if it's not targeted, but sometimes, even targeted email blasts fail. This happens when you've wrongly identified a particular customer. Let them have the option to unsubscribe from your list, but don't let them go too soon. Give them other options. For example, ask them if they would like to subscribe to less news. This way, you can still get in touch with them, but they get to control the frequency of your email blast.
Thanks for reading! Stay tuned for the 2nd part for more tips on how to make your email marketing strategies work better. We've talked about fine tuning your contact list, and  in the next part, we'll help you make your content more interesting to your target consumers.